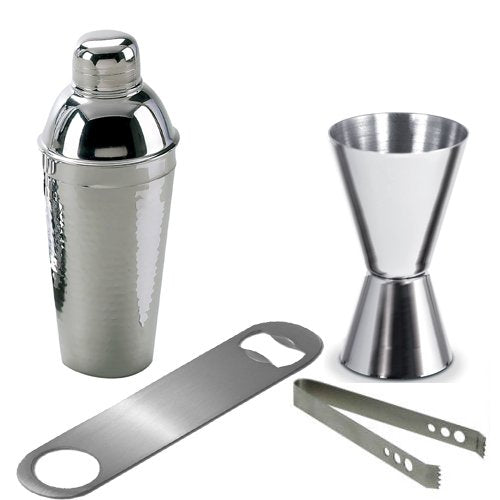 ANYTHING N EVERYTHING RETAIL IN
Anything & Everything Stainless Steel Bar Set Combo | Stainless Steel Bar Accessories Combo Set- Cocktail Shaker + Peg Measure + Opener + Ice Tongs
Regular price Rs. 1,499 now Rs. 699 Unit price / per
Tax included.
Shipping
calculated at checkout.
Stainless Steel Plain Bar Set Combo Set of 4 Pieces

IDEAL FOR ANY LEVEL - If you're looking to mix up delicious and refreshing cocktails that you'll want to serve again and again at your next cocktail party, then this is the set you'll need. It's durable, rugged, washable and great to train the beginner bartender, as well as to be enjoyed by the pro's. Recommended for anyone who wants to start a home bar, or add class and variety to an existing one.

A TASTE FOR ALL - Experiment with the classic cocktails such as the minty, zesty mojito, an easy vodka tonic, or an exotic honey and bergamot-flavoured Golden Flip. Stick with a delicious vodka cocktail, or branch out with some non-alcoholic Mocktails. Select something that fits your mood, or pick something new and adventurous. Either way you can't go wrong!

GET INTO THE MIX - Impress friends and colleagues with this upscale, fabulously priced Professional Bar Set, perfect for a cocktail party, cocktails gift, home bars, professional bartenders, a birthday present or and exciting new hobby.